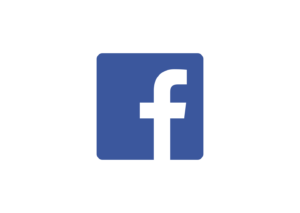 The Iron Range Net maintains a log of all those stations checking into the net, keeping a running total of the number of check-ins for each station. George, KR6FB, maintains the log and awards the certificates. Due to the cost of printing and  postage ($4.00 to send a mountable certificate by USPS) , if your email is not listed on QRZ – please provide George with your email address so that a printable electronic version of the certificate can be sent to you.
With some of our regular net participants approaching the 700 mark, it is time to begin thinking of a design for the 700th Certificate of Participation. A lot has happened in the intervening 14 years – so it is appropriate to remember the founders. Hence, the Founder's Edition has been suggested as a design theme.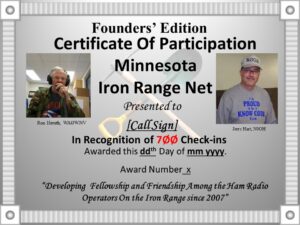 Suggestions for design modifications are encouraged. Ideas should be submitted by June 2022 – about the time the first such certificate can be awarded.
Net Preamble
Net control operators are welcome to utilize the suggested preamble to call the net.
Read More ...
Using the Log
The log allows users to look up their number of check-ins by simply entering their call sign. Read more to learn how to use this interactive log.
Read More ...
Interactive Log
Enter your call sign in the YELLOW BOX below:

Check into the group's Facebook page to see what's going on or leave a Reply/Comment  at the bottom of this page if you have any issues in using this feature.